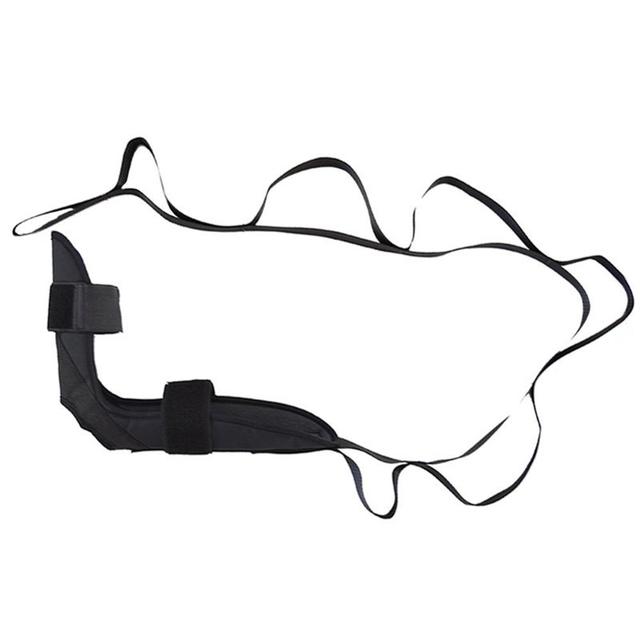 Yoga Flexibility Leg Stretcher Strap
Save

0

%
Save %
Original price
$22.00
-
Original price
$22.00
Achieve new levels of flexibility and enhance your stretching routine with our Yoga Flexibility Leg Stretcher Strap. Here's why you need this versatile tool in your fitness arsenal:
Premium Quality: Our leg stretcher strap is crafted from ultra-durable polyester, cotton, and oxford fabric, ensuring it withstands the demands of rigorous workouts and lasts for years to come. It's designed to provide reliable support and maintain its shape even during intense stretching sessions.

Multiple Loops Design: The unique multiple loops design offers endless possibilities for stretching and flexibility exercises. Adjust the strap's length according to your needs and utilize the various loops to target different muscle groups and achieve deeper stretches.

Secure and Comfortable Fit: The leg stretcher strap features two hook-and-loop fasteners that securely attach to your feet, providing a stable foundation for your stretches. The adjustable straps in other areas ensure a comfortable and customizable fit, accommodating users of all sizes and flexibility levels.

Versatile and Effective: This leg stretcher strap is not only ideal for yoga practitioners but also complements other forms of exercise and flexibility training like ballet and pilates. It helps improve your range of motion, enhance muscle flexibility, and reduce the risk of injuries, allowing you to perform dynamic poses and movements with greater ease and grace.

Portable and Lightweight: Take your leg stretcher strap anywhere you go! It is lightweight and compact, making it easy to pack in your gym bag or travel with. Stay committed to your flexibility goals no matter where you are.
Don't let limited flexibility hold you back from achieving your full potential. Embrace the benefits of our Yoga Flexibility Leg Stretcher Strap and unlock new levels of flexibility, strength, and control. Start your journey towards improved performance and injury prevention today!
Click here to order your Yoga Flexibility Leg Stretcher Strap and elevate your stretching routine to new heights. Reach for the sky and embrace the limitless possibilities of your body!