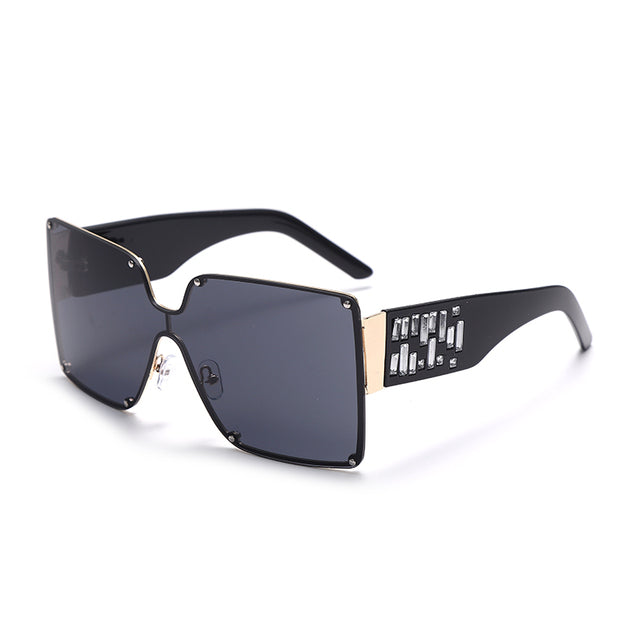 Oversized Rimless Sunglasses
Save

0

%
Save %
Original price
$23.00
-
Original price
$23.00
Elevate your style with our stunning Oversized Rimless Sunglasses. Designed for the fashion-forward woman who wants to make a statement, these sunglasses combine a bold and unique look with practical functionality. Here's why you need to add them to your collection:
Oversized and Rimless Design: The oversized lenses of these sunglasses create a dramatic and glamorous effect, instantly adding a touch of sophistication to your ensemble. The rimless design further enhances their unique and contemporary appeal, making them a standout accessory that will turn heads wherever you go.

Gradient Blue-Pink Lenses: With gradient blue-pink lenses, these sunglasses not only protect your eyes from the sun's harmful rays, but they also provide excellent clarity and vision in various light conditions. Whether you're strolling on the beach or walking through the city, you'll be able to see the world through stylish lenses.

Fashion Statement: The combination of oversized lenses and a rimless design makes these sunglasses a true fashion statement. They exude confidence and individuality, allowing you to express your personal style with flair. These sunglasses are perfect for adding a touch of glamour to any outfit and showcasing your fashion-forward sensibility.

Versatile and Functional: These sunglasses are versatile enough to be paired with a variety of outfits and occasions. Whether you're dressing up for a special event or going for a casual look, they effortlessly elevate your style. The oversized lenses provide ample coverage, protecting your eyes from both direct sunlight and peripheral glare.

High-Quality Construction: We prioritize quality and durability in our products. These sunglasses are made with premium materials to ensure long-lasting wear. The lenses offer excellent UV protection, and the frames are sturdy and lightweight, ensuring optimal comfort throughout the day.
Make a bold fashion statement with our Oversized Rimless Sunglasses. Embrace the unique combination of oversized lenses, rimless design, and gradient blue-pink lenses for a look that stands out from the crowd. Enhance your style and protect your eyes in style. Order your pair of Oversized Rimless Sunglasses today and step up your fashion game!